With our "CityShopperApp" you will discover the fashion scene of your city in a new style. It's goal is to show you not only the most beautiful shops, but rather provides you a tool that filters the amazing variety of shops by your personalized needs and creates a guided tour for you. Or you explore the fashion scene of the districts with one of the theme tours rranged by the fashion pro's from Berlin Shopper - inclusive sightseeing and restaurant recommendations. The app will keep you up to date with the newest events in the fashion scene, gives you trend information – with matching theme tours. We're starting with the new fashion metropolis Berlin.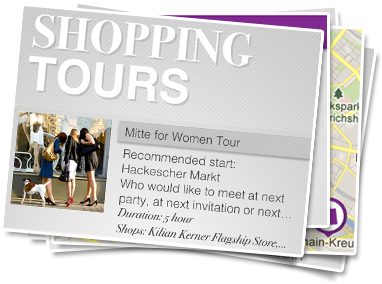 Theme tours:


Discover with different theme tours like Vintage- , Eco Fashion-, Designer tours and many more the diversity of the fashion scene of your city and let you take along a little fashion adventure.
Make a personalized tour:


On the hunt for anything in particular or you have only less time, create your own personalized shopping tour – by your style, budget, time and the products you are looking for.
Shop-list and shop-details:


In the shop register you can have a look at all shops. You can filter them by different aspects like near-by, A-Z etc. In the detail view you find extensive information and pictures from every single shop.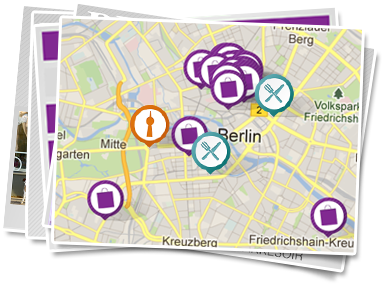 Map view:


By GPS-function you will be guided to one shop after another in the map view. You can discover sightseeing hot spots and restaurants recommendations on your way.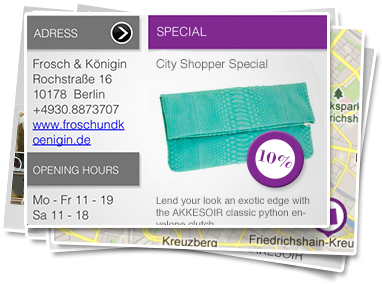 Special offers:


With CityShopperApp you can profit from special offers and actions in many shops after the check- in. The "check – in" appears, while you enter a shop on your tour. Just press check-in and save your benefits!
News:


Stay up to date with CityShopperApp. Read in the news, what is happening in the fashion city, what are the newest fashion trends and let pick you up on a matching trend-theme tour.